Get a Roofing Quote
Roofer Oldham Pages
We have been serving Oldham for a long time our team is experienced and we offer the highest quality of roofing with a 30 year guarantee.
Guttering in Oldham is one of our company's main services. We offer a large range of guttering including alluminium and wooden.
Roofing Company in Oldham
We are very proud to be a family run business in our third generation. When my Dad retired in 1981, I took over the family business and I'm very proud to say my son joined the company and now holds joint partnership. We have built this company up from the bottom and pride ourselves in being genuine and extremely customer friendly.
Trade Safe Roofers Oldham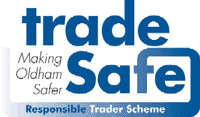 As part of our excellent customer service promise, we are happy to tell you that we are covered by £10,000,000 in public liability alongside a range of memberships to various groups including the Chamber of Commerce, Trade Safe and the Guild of Master Craftsmen.
We also hold a license to operate MEWPS: scissor lifts, cherry pickers and boom lifts. Some of our employees have also taken the time out of work to undertake training with St Johns Ambulance, just another attempt to make our service safe and professional.
Great Quality Customer Service
We like to make sure that the customer is always happy and we aim to avoid nuisance and mess when we conduct our work. We always tidy up the work area once we have completed the work done.
We work all across Greater Manchester, so if you're interested please contact us.
Roofer Oldham Photos of Our work
| | | | | |
| --- | --- | --- | --- | --- |
| Roof Line Gutter Fascia | New Tile Roof Oldham | Tile Roof | Commercial Roof damage in Oldham wear and tear | Fascia |